The 2018 Sustainable Farming Association Annual Conference, Minnesota's sustainable agriculture showcase, is set for 8:30 a.m.-5 p.m. Feb. 10 at the Gorecki Center at the College of Saint Benedict in St. Joseph.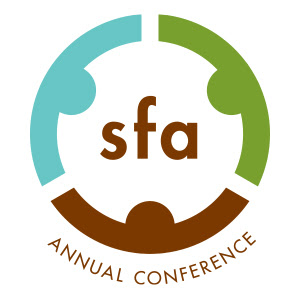 Prepare for a day of farmer education and networking with relevant session topics, many chosen and led by SFA members. Also planned is a Spotlight on Sponsors lunch, the end-of-day social with local food and drink, a full trade show and more. See the complete schedule here.
Returning is the free pre-conference event, "Meet Your Farmers and Foodies Social & Jam Session," from 7 to 9 p.m. Feb. 9 at Minnesota Street Market, 27 Minnesota St W, St. Joseph. Bring the whole family, your instruments, or just drop in to say hello. Click here to download a flyer.
Online conference preregistration ends Feb. 7. Registration at the door will be available to all for $70. Veggie Buds is returning – children 3-12 may again enroll in this popular food-centric educational programming for just $10, either by preregistration or at the door.
CLICK HERE TO PREREGISTER BY FEB. 7. 
GETTING THERE: The Gorecki Center is in the center of campus. Parking is available nearby in Lots 5 and 6; note that the north campus entrance, off Minnesota St, is the best option. Look for the SFA signs pointing you toward the conference. Here's a campus map.
MORE INFO: Visit the Annual Conference homepage or email jerry@sfa-mn.org.
THANKS TO OUR SPONSORS: Compeer Financial, Iroquois Valley Farms, Minnesota Dept. of Agriculture, Renewing the Countryside, MN Ag Water Quality Certification Program, Renewing the Countryside, Minnesota Farmers Union, Albert Lea Seed, Highview Advisors, and Lakewinds Co-op.